An organised kitchen doesn't just make cooking easier, but with a few tweaks to your kitchen, you can make healthier choices too. There's nothing better than those organisation videos with the perfect containers and labels for everything on Facebook and Instagram. Of course, that is unattainable for most of us, and it likely won't stay that way. But the principles are essential for keeping a clean diet throughout the year.
Why is an organised kitchen is important?
We bet when you picture your dream kitchen it isn't one bursting with clutter. You're probably dreaming about a having The Home Edit women take over your space – we certainly are! But a clutter-free kitchen isn't just about making it look good, it's practical and better for your health too.
An organised kitchen can help you make you make better nutritional decisions, as well as help keep a mostly-stress free environment.
Being the heart of the home, your kitchen is a high traffic area, almost requires messes to be made while in use and is often a collection point for all your odds and ends. The benefits of de-cluttering your home are endless, but a well-organised kitchen can also reduce your food waste saving you money and will significantly improve your approach to meal prep and nutrition.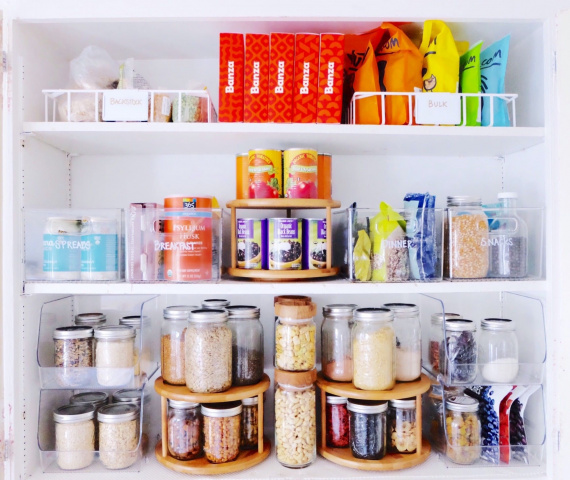 You don't need to be Marie Kondo to get organised. Here are a few of our go-to tips for a happier, healthier approach to your nutrition.
1. Get rid of what you don't need
Go through your pantry and fridge and donate those foods that aren't doing you any good like: these. Spoiler: you'd be surprised how many foods we've been told are healthy but aren't… we're looking at you, granola. Don't be caught unaware, check out these Health Foods that are actually bad for you. Once you've freed up some valuable space, you can stock it with plenty of healthy foods like fresh vegetables and herbs, proteins, grains, nuts and seeds and healthy fats.
2. Out of sight, out of mind
Sometimes, tossing out snacks isn't the solution – because restricting yourself only leads to a weekend binge, right? There are a few ways to tackle the sweet and snackish cravings – the easiest being to take the 'out of sight, out of mind' approach. In a study published in the Journal of Health Education and Behavior, they found that women who left cereal on their countertops weighed 20 pounds more than those who didn't while those who stashed soda on their counters weighed 24 to 26 pounds more. So, keep those snacks out of your eye line, and preferably as far away from you as possible… Perhaps in an old container at the top of a shelf in the pantry?
3. Keep fruit on the counter
On that note, when that afternoon sugar craving hits, best to have the healthier options at an arm's reach. In that same study in the Journal of Health Education and Behavior, they highlighted the importance of the presence of fruit on the counter as it was associated with lower BMI in women. Having the healthier choice more readily available is likely to have you making that choice. A big beautiful bowl of colourful fruit is aesthetically pleasing for sure – so get creative with your fruit arrangements!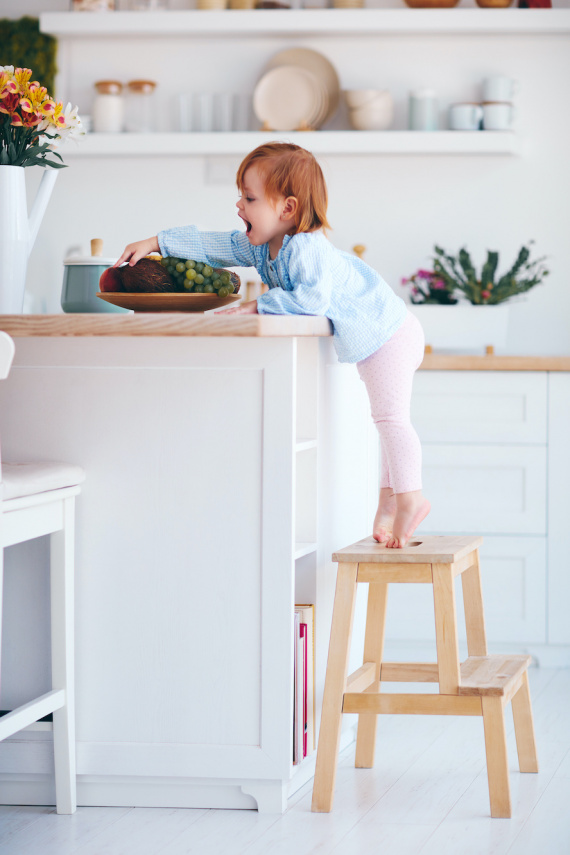 4. Get sorting
There is something very satisfying about looking at a well-organised fridge and pantry (visit @thehomeedit on Insta to get a taste of what we mean). But, you don't have to just admire it, you can be inspired by it too. Storing your food in containers will make them last longer, keep the bugs out and makes the most of your storage capabilities. Your new best friends need to be glass oven- and freezer-safe containers, clear stackable containers, as well as mason jars and canning jars. Plus, having the right containers makes meal prepping lunches and dinner ahead of time a cinch too.
5. The triangle prep space
The first rule of setting up your kitchen is the 'golden triangle'. Picture this as the optimal placement of your prep, cooking, and clean-up spaces so that you can easily move from one to the other without tripping over things. This isn't an essential part of better nutrition, but making food preparation as easy as possible will make cooking healthy, nutritious meals every day even easier.
"How do I start without getting overwhelmed?"
Start small and spend 20-minutes in the one section that brings you the most pain. Soon enough, you'll have your kitchen in shipshape and loving it, because working smarter is always better than working harder. And, it's the best form of self-care. Get organising now – you future self will thank you in no time!